Latest News and Updates
ALERT - Diabetic ketoacidosis (DKA) with SGLT2 Inhibitor Use, Particularly Perioperatively
Sodium-glucose co-transporter-2 inhibitors(SGLT2i) are being used with increasing frequency due to their effectiveness and also the cardiorenal benefits being demonstrated in clinical trials. Indeed the latter has also led to non-endocrinologists, especially cardiologists and renal physicians commencing the agents. In addition, it is clear that even bowel preparation, not just surgery per se, has been a precipitating factor in a number of cases. Physicians, surgeons, anaesthetists, emergency departments andprimary care providers all need to beaware of the risks of diabetes ketoacidosis with these agents - PDF (Posted: August, 2019)
---
Australian Diabetes Society Consensus Position Statement on: Utilising the Ambulatory Glucose Profile (AGP) combined with the Glucose Pattern Summary to Support Clinical Decision Making in Diabetes Care

The ADS 'AGP Plus' Working Party
Chair: Prof Stephen Twigg
Members: A/Prof Neale Cohen, Ms Natalie Wischer, A/Prof Sof Andrikopoulos

Consensus
The Ambulatory Glucose Profile (AGP) enables retrospective analysis of dense data, trends and patterns for persons with diabetes and their health care team to help achieve appropriate glucose targets and to minimise hypoglycaemia and hyperglycaemia.

Preamble
An Australian Diabetes Society 'Standardisation of AGP Profile Workshop' was held on April 13th 2018, to identify the clinical effectiveness of glucose profiling in diabetes with a focus on retrospective, summary methods of reporting. This document reflects the main outcomes of that Consensus Workshop, leading to this consensus position statement with a practical focus.
Download the 'ADS Consensus Position Statement on: Utilising the Ambulatory Glucose Profile (AGP) combined with the Glucose Pattern Summary to support Clinical Decision Making in Diabetes Care' - PDF (Posted: June, 2019)
---
Expanded access to Continuous Glucose Monitoring (CGM) subsidies from 1 March 2019
On 25 November 2018, the Minister for Health, the Hon Greg Hunt MP, announced that the Australian Government would commit more than $100 million in additional funding to expand the Continuous Glucose Monitoring (CGM) Initiative.

Since 1 April 2017, the CGM Initiative has provided fully subsidised CGM products to children and young people under 21 years of age, with type 1 diabetes.

From 1 March 2019, the eligibility for access to this initiative was expanded to provide fully subsidised CGM products to the following groups of people:
children and young people with conditions very similar to type 1 diabetes, such as cystic fibrosis related diabetes and neonatal diabetes, who require insulin;
women with type 1 diabetes who are actively planning pregnancy, pregnant, or immediately post-pregnancy; and
people with type 1 diabetes aged 21 years or older who have concessional status, and have a high clinical need to access CGM products.
The Government also announced its intention to include the
FreeStyle Libre
flash glucose monitoring system on the list of products subsidised under the scheme, subject to price negotiations with the product sponsor.
As a result of the Government's additional funding for this program, over 37,000 Australians will be eligible to receive fully subsidised CGM products.
The detailed eligibility criteria for the expanded CGM Initiative, and application forms, are available via the National Diabetes Services Scheme
NDSS website
.
---
2019 Diabetic Foot Australia Conference
The 2019 Diabetic Foot Australia Conference is designed for multidisciplinary specialties: podiatry, nursing, pedorthics, endocrinology, vascular surgery, general practice, orthopaedics, infectious diseases and other specialties caring for people with diabetic foot disease. The program boasts international and national keynote speakers, plenary sessions and interactive workshops. Focused around the core themes of the patient, ulcer, pressure and infection, we are covering all areas of diabetic foot disease including clinical practice and scientific evidence. Over two days at the stunning Howard Smith Wharves in the heart of Brisbane city, you will enjoy the latest in research and practice, and meet with industry partners offering the latest products and services. Our social program includes an official welcome event along the Brisbane river, and an interactive conference dinner delivered in relaxed DFA style. The two day full conference pass in available now for $795! Click on the link to learn more: https://www. diabeticfootaustralia.org/ conference-2019/
Abstract Submissions close on the 06th May
Researchers with results from original work in the field of diabetic foot disease are encouraged to submit an abstract for the 2019 Diabetic Foot Australia Conference. Successful submissions are provided the opportunity to deliver an oral presentation during one of the four abstract sessions across the two day conference. These sessions are an important part of DFA 2019, as they show the newest and brightest research works from around Australia and internationally. https://www. diabeticfootaustralia.org/ conference-2019/#abstracts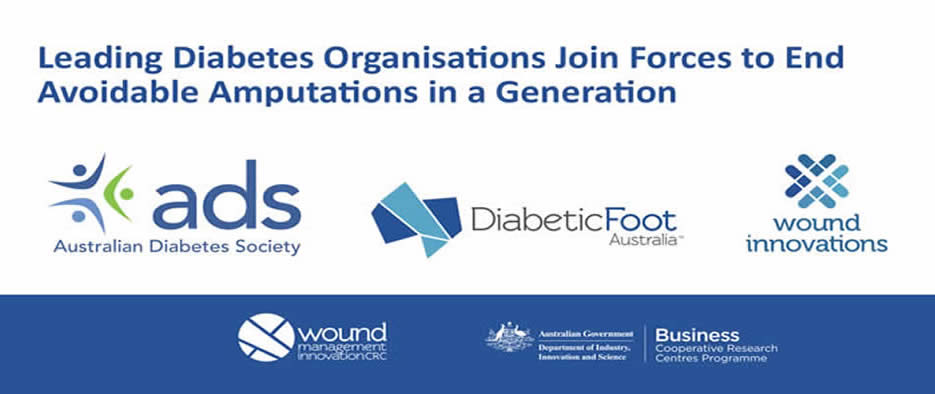 Diabetic Foot Australia is moving to the Australian Diabetes Society
We are delighted to announce that with the conclusion of the Wound Management Innovation Cooperative Research Centre (Wound CRC) this month, the Australian Diabetes Society (ADS) will take Diabetic Foot Australia (DFA) into its stable of national diabetes clinical and research programs from the 1st July 2018. Read Media Release (Posted 20 June 2018).
Launched by the Wound CRC in 2015, Diabetic Foot Australia has since become the national multi-disciplinary advocacy body for the prevention, care and research of this prevalant disease. We thank the Wound CRC for their vision, support and investment in establishing DFA and continuing in partnership with Wound Innovations as the Wound CRC's successor.
DFA look forward to working with Dr Sof Andikopoulos and his expert team at ADS in accelerating DFA's work and Australia's progression to ending avoidable amputations in a generation. By combining the well-established reputation of ADS as the peak national diabetes body for scientific and medical sectors, with our engaged national diabetic foot community, we can drive further colloborations, research, education and most importantly, advocacy for patients.
For further exciting DFA activities to be released soon, please visit the DFA website at www.diabeticfootaustralia.org
---
RACGP & ADS Joint Clinical Position Statement on Emergency Management in Primary Care
Emergency management of hyperglycaemia in primary care was developed by the RACGP and the Australian Diabetes Society (ADS) to raise clinical awareness of hyperglycaemic emergencies in primary care by:
Identifying clinically important patient presentations and risk factors

Ensuring management of hyperglycaemic emergencies is optimised to prevent serious outcomes
This document should be read in conjunction with the relevant management flow charts (Figures 1 and 2), which provide information for the management of hyperglycaemic emergencies before patients arrive at hospital. This position statement should integrate with, but not replace, existing sick day, ambulance and hospital-based management protocols. Clinicians should consult existing local/regional or health pathways/protocols for inpatient management.
It is important to note this statement does not replace existing diagnostic guidelines for routine (non-emergency) presentations, and should not be used for evaluating hyperglycaemia associated with pregnancy where specialist advice on assessment and management must be sought. Download the jointly-produced RACGP and Australian Daibetes Society clinical Position Statement which aims to assess and manage hyperglycaemic emergencies and prevent adverse outcomes - PDF (Posted: May, 2018)
---
Subsidised Continuous Glucose Monitoring Products for Young Australians
From 1 April 2017, the Australian Government will provide fully subsidised continuous glucose monitoring (CGM) products to eligible children and young people aged under 21 years with type 1 diabetes.
Children and young people who experience significant challenges in managing their blood glucose levels, particularly those who have difficulty identifying symptoms of hypoglycaemia, will benefit the most from CGM technology.
This initiative allows families and children to better self-manage their blood glucose levels, reducing visits to emergency departments and missed school days.
Continuous glucose monitors will alert users or their parents/carers if glucose levels are getting too low or too high without the need for continuous finger prick tests, reducing stress and anxiety for the child and young person and their family.
To be eligible, the child or young person will need to be assessed by an authorised health professional to determine if they meet specific criteria and to ensure that the use of CGM is a suitable part of their diabetes management plan.
The authorised health professionals for CGM assessment are endocrinologists, credentialled diabetes educators, and other health professionals specialising in diabetes (physicians, paediatricians or nurse practitioners).
An expert CGM Advisory Group, including endocrinologists, credentialed diabetes educators, consumer experts and other diabetes stakeholder groups, has advised that the best clinical outcomes are achieved when CGM is used as part of an ongoing diabetes management plan. Authorised health professionals will also play a key role in assisting in the set up and operation of CGM devices for eligible children and young people not currently using CGM.
The Continuous Glucose Monitoring Eligibility Assessment form is available at www.ndss.com.au/cgm.
Further information about access to CGM products through the NDSS, please visit www.health.gov.au/ndss-cgm. You can also call the NDSS Helpline on 1300 136 588. Download the CGM Flow Chart for Health Professionals - PDF
---
ADS Position Statement on Insulin-requiring diabetes and recreational diving
Mervyn Kyi, Barbora Paldus, Natalie Nanayakkara, Michael Bennett, Rebecca Johnson, Catherine Meehan, Peter Colman
In 2015 the Australian Diabetes Society commissioned a working group to review and revise its position statement on scuba diving in persons with diabetes. The working group consisted of endocrinologists with an interest in type 1 diabetes, diving medical specialists, a recreational diver with diabetes and an advocate for people with type 1 diabetes.
A thorough literature review was performed and all available evidence was summarised and a new position statement was drafted. The new position statement was submitted to the ADS Council for approval.
The scope of this document is restricted to recreational (not professional) diving in line with the available evidence. It is also targeted at insulin-requiring (both type 1 and type 2) diabetes, as traditionally this group has been excluded from recreational diving. This document updates the ADS position statement in line with current evidence.
Download the full version of the ADS Insulin-requiring diabetes and recreational diving Position Statement - PDF and Appendicies - PDF (Posted: December, 2016)
---
ADS launches T2D Treatment Website (A New Blood Glucose Management Algorithm for Type 2 Diabetes)
As part of World Diabetes Day (14 November, 2016), the Australian Diabetes Society has launched a new interactive website aimed at improving the lives of people living with type 2 diabetes.

The T2D treatment website is the first of its kind in Australia to offer health-care clinicians a user-friendly, interactive tool to assist them in determining the best treatment option for their patients.   The launch of the website follows the release of a revised position statement by the ADS entitled, 'A new blood glucose management algorithm for type 2 diabetes'.
This initiative involved the support of groups including the National Association of Diabetes Centres (NADC), Diabetes Australia (DA), the National Prescribing Service (NPS) and the Royal Australian College of General Practitioners (RACGP).  
Please visit http://t2d.diabetessociety.com.au to access the T2D treatment website.
ADS Position Statement on A New Blood Glucose Management Algorithm for Type 2 Diabetes
The blood glucose management algorithm for type 2 diabetes outlines the risks, benefits and costs of available therapies and provides an approach for how to incorporate older and newer agents.
Control of blood glucose levels in people with type 2 diabetes has clear benefits for preventing microvascular complications and potential benefits for reducing macrovascular complications and death.
Treatment needs to be individualised for the person with diabetes.
This should start with selection of the appropriate blood glucose and HbA1c targets, taking into account life expectancy and the wishes of the person with diabetes. A range of recently available therapies have added to our range of options for controlling blood glucose levels but this has made the clinical pathway for managing diabetes more complicated.
To assist with clinical decision making, in 2014 the Australian Diabetes Society council appointed an expert working group to draft a position statement with a focus on the results of recent randomised clinical trials. The original statement was reviewed by the ADS council (September 2014) and then sent to all ADS members for comment before publication in the Medical Journal of Australia (December 2014). In light of new randomised clinical trial evidence the statement and algorithm was updated (December, 2016).
Download the updated (December, 2016) full version of the ADS A New Blood Glucose Management Algorithm for Type 2 Diabetes Position Statement - PDF (Posted: December, 2016)
---
Australasian Diabetes Data Network (ADDN)
The Australasian Diabetes Data Network (ADDN) is an initiative of the Juvenile Diabetes Research Foundation (JDRF) supported by the Australasian Paediatric Endocrine Group (APEG) and the Australian Diabetes Society (ADS) to build long term clinical research capacity in Australia for people with diabetes.
ADDN has established Australia's first national clinical research diabetes database, collecting clinical information from people with type 1 diabetes and connecting the data on an integrated, secure, custom-built platform. This rich data resource includes national-level information about type 1 diabetes, available to researchers within strict ethical and governance boundaries.
The database currently contains clinical data from children and adolescents with diabetes from seven specialist paediatric public tertiary centres across Australia. With planned expansion to adult centres, ADDN will extend its data capture and provide richer and more complete information about the natural history, clinical progression and most effective treatment regimens for all people living with type 1 diabetes.
For more information, visit the ADDN website at http://www.addn.org.au/
---
Australian Obesity Management Algorithm
Obesity is a complex and multi-factorial chronic disease with genetic, environmental, physiological and behavioural determinants that requires long-term care. In 2014-15, 63.4% of Australians aged 18 years and over were above normal weight, with 27.9% being obese. Obesity is associated with a broad range of complications including type 2 diabetes, cardiovascular disease, dyslipidaemia, sleep apnoea, osteoarthritis, and certain types of cancers, which significantly impair quality of life. Obesity and its related complications place a considerable financial burden on Australia. In 2014-15, the direct and indirect costs of obesity were estimated at $ 8.65 billion.
This statement has been developed by a working group with representatives from the Australian Diabetes Society, the Australian and New Zealand Obesity Society and the Obesity Surgery Society of Australian and New Zealand.
The aims of the document are to:
1) Assist general practitioners (GPs) in treatment decisions for non-pregnant adults with obesity
2) Provide a practical clinical tool to guide the implementation of existing guidelines for the treatment of obesity in the primary care setting in Australia.
Download the full version of the Australian Obesity Management Algorithm - PDF (Posted: October, 2016)

---
Important TGA Update

Below are the latest updates from the Therapeutic Goods Administration regarding the medicine shortage information of pioglitazone hydrochloride and gliclazide.
Medicine Shortage Information - Pioglitazone Hydrochloride

---

2019 ADS Membership

The 2019 Australian Diabetes Society Membership Fee Renewals are now overdue. Please ensure that the ADS Secretariat has all the correct mailing and contact details, particularly email addresses, as we rely on these to maintain contact with you and keep you informed of ADS activities. The 2019 ADS Subscription period is from 1 July 2019 to 30 June 2020. Please contact the ADS secretariat at admin@diabetessociety.com.au for membership enquiries.


---

Enhancing Your Consulting Skills - available for download online




"Enhancing Your Consulting Skills: Supporting self-management and optimising mental health in people with type 1 diabetes" is designed for trainees in Adult Endocrinology, their supervisors and other interested health professionals. The resource includes topics such as information giving, health literacy, facilitating practical skills acquisition, and promoting behaviour change. It also explores the emotional, psychological and psychiatric issues that can impact on the quality of life of people with type 1 diabetes.

"Enhancing Your Consulting Skills" was developed by the Australian Diabetes Society for the National Diabetes Services Scheme. It is now available in electronic format through the ADS website at: [http://diabetessociety.com.au/download-request.asp]. It can be downloaded free of charge for individual use. Please Note that you will be required to submit a request for download and obtain your password prior to receiving the download link. Hard copies of the resource are available from the ADS Secretariat.




---

Important Information regarding changes to the National

Diabetes Services Scheme


From 1 July 2016 some important changes are happening to the National Diabetes services Scheme (NDSS). There are no changes to the types of products available under the NDSS, but the way people access these products may change. People will still be able to access NDSS products through their local participating community pharmacy access point. In fact the Federal Government wants to extend the number of community pharmacies that provide NDSS products to make it more convenient for people with diabetes. NDSS products will no longer be available through Diabetes Australia (DA) or state and territory diabetes organisations. This means people will no longer be able to order products via the Diabetes Australia shops, the NDSS 1300 number or via the website. Diabetes Australia and state and territory diabetes organisations will instead focus efforts on continuing to provide education services for people with diabetes. There will be no changes to NDSS education services funded by the Government - in fact the Government will be increasing funding to expand education and support available to people with diabetes. Community Pharmacies have made up more than 90% of all NDSS access points in Australia for over ten years, so people can be confident that if they have not accessed pharmacy before for this, they will receive a high level of service.


Please visit the Department of Health website for the latest updates or click here to read the NDSS Frequently Asked Questions.

---

Australian National Diabetes Strategy 2016-2020

The Australian Government has developed and released a new National Diabetes Strategy to update and priorities the national response to diabetes across all levels of government. The Australian National Diabetes Strategy 2016-2020 (the Strategy) is a high-level document that contains a number of goals and potential areas for action that provide a range of ideas for implementation to achieve each goal. This presents a range of opportunities for jurisdictions to partner with the Commonwealth to develop and support approaches for diabetes prevention and control. The Strategy was endorsed by the Australian Health Ministers Advisory Council (AHMAC) on 2 October 2015, noted by the COAG Health Council on 6 November 2015, and publically released 13 November 2015. An implementation plan will be developed in consultation with jurisdictions through AHMAC to consider the ways to direct funding and other resources and proposed measures to evaluate the progress of the Strategy. Engagement and support from jurisdictions will facilitate a coordinated approach to diabetes across governments and ensure there is broad benefit from the Strategy. The Strategy has been informed by the expert advice of the National Diabetes Strategy Advisory Group and consultations with key stakeholders and the community. The Australian Government provides support to people with diabetes through Medicare and a range of programs and this new Strategy will not replace or override existing processes. This Strategy aims to better coordinate health resources across the sector to where they are needed most. The Australian National Diabetes Strategy document is available from the Department of Health's website at http://www.health.gov.au/internet/main/publishing.nsf/Content/nds-2016-2020 Media Release Statement by Health Minister; the Hon Sussan Ley MP on Australia delivers new National Diabetes Strategy on World Diabetes Day


---

The Australian Diabetes Society endorses Endocrinology, Diabetes & Metabolism Case Reports

Endocrinology, Diabetes & Metabolism Case Reports is a unique, open access resource that publishes and links together case reports, enabling practitioners to communicate findings, share knowledge and convey medical experiences efficiently and effectively; furthering both medical education and clinical practice. The search and browse functionality enables fluid navigation between case reports, facilitating discovery, connections and comparisons; making it the go-to resource across all the many disciplines intersecting with endocrinology, diabetes and metabolism.

Members of the Australian Diabetes Society receive a 25% discount on the open access publishing charge when publishing case reports in Endocrinology, Diabetes & Metabolism Case Reports (submit online via www.edmcasereports.com).

Please click on the PDF link to download and view the member flyer - PDF

---

Updated Medical Standards from 1 October 2016
While many factors contribute to safety on the road, driver health and fitness to drive is an important consideration. Drivers must meet certain medical standards to ensure their health status does not unduly increase their crash risk. Assessing Fitness to Drive, a joint publication of Austroads and the National Transport Commission (NTC), details the medical standards for driver licensing for use by health professionals and driver licensing authorities. The standards are approved by Commonwealth, state and territory transport ministers. In October 2016, new medical standards come into effect for drivers of private and commercial vehicles. The NTC website provides information for health professionals, employers, heavy vehicle drivers, commercial drivers and private vehicle drivers. Please click on the link to download the free electronic pdf version at https://www.onlinepublications.austroads.com.au/items/AP-G56-16