Enhancing Your Consulting Skills: Supporting self-management and optimising mental health in people with Type 1 Diabetes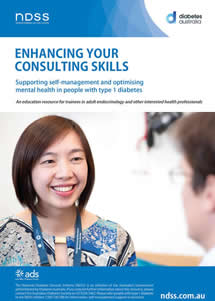 Type 1 diabetes is arguably one of the most challenging chronic medical conditions for a person to self-manage. It requires vigilant and relentless juggling of insulin doses, dietary intake and physical activity to achieve glycaemic targets so the onset of debilitating acute and chronic complications can be prevented or delayed.  The knowledge and skills needed to effectively self-manage type 1 diabetes are not necessarily intuitive, nor are the required behaviour changes easy to maintain in the long term.
Health professionals can play a vital role in providing self-management support for people with type 1 diabetes. The skills required by health professionals to provide this support can be defined and acquired, just as in any other area of clinical expertise. "Enhancing Your Consulting Skills" was developed for trainees in Adult Endocrinology, their supervisors and other interested health professionals to meet this educational need. The resource includes topics such as information giving, health literacy, facilitating practical skills acquisition, and promoting behaviour change. It also explores the emotional, psychological and psychiatric issues that can impact on the quality of life of people with type 1 diabetes.
"Enhancing Your Consulting Skills" is a joint-initiative of the Australian Diabetes Society (ADS) and the National Diabetes Services Scheme (NDSS).
Request for Download of 'Enhancing your Consulting Skills' Resource

Please enter your details below:
You will receive an email with instructions on how to download the book.